Nursing home residents can talk to relatives via television
A small Aarhus company has made a simple solution so that nursing home residents can communicate with their family via the resident's television.
It has gradually begun to open up so that nursing home residents can see their relatives again despite COVID-19 outbreaks.
But many relatives are probably still unsure whether they will infect their elderly family members if they visit them in the nursing home.
A small new company in Aarhus has invented a solution where nursing home residents can communicate with their relatives without risk of infection and without operating a smartphone or tablet.
- It is high-tech for low-tech people, says inventor Mads Søndergaard to TV2 ØSTJYLLAND.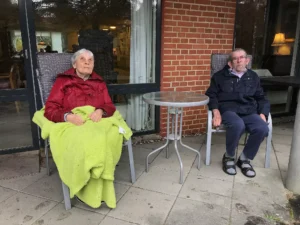 The company Videolink has developed a small computer that is set up at the resident's nursing home together with a webcam, and via a link, the relatives can call the resident whose television turns on automatically.
The idea came to Mads Søndergaard, who calls himself an Ole Inventor, a year and a half ago. And right now he sees it working in a nursing home, where he and a partner are testing it out and fine-tuning the final details.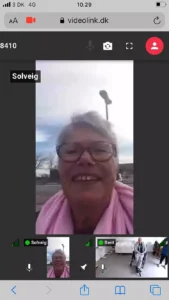 - My overall goal is to make them happy, says Mads Søndergaard.
- We want to limit loneliness and deprivation out here. But the solution can also be used so that the elderly can get rehabilitation over the television screen.
Will make a difference
He invented the technology long before corona became a word everyone in the country used. But now he feels that his invention makes even more sense.
- I think it's such a shame. The elderly believe that their relatives are gone and that they are being forgotten. It's awful, he says.
Just before the COVID-19 crisis broke out, the company conducted their first test on two residents of a nursing home in Egå, and according to them it was a great success. The two residents are now testing the concept for a month, and then evaluate the people behind the Videolink system.
- There was a lady in a nursing home who we tested with. Her son called while he was renovating her old house, which he has taken over, and he showed her around the house via his phone. She sat and cried with joy. And we have had several such reactions, says Mads Søndergaard.
You can not yet buy the technology anywhere, but they are working to get as many as possible made, and then they imagine that you will be able to rent the equipment for 99 kroner a month, just like with a mobile subscription.
The goal is for all nursing homes in Aarhus to receive the technology, and in the even longer term they hope to be able to spread it to the whole country.